About the Book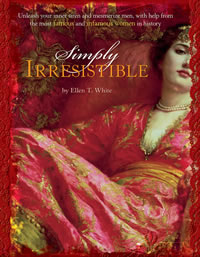 How did Cleopatra seduce the men of Rome? Did Greta Garbo really want to be alone, or was she trying to make them sweat? What was the secret behind Coco Chanel's allure?
Simply Irresistible: Unleash or Inner Siren and Mesmerize Men with Help from Some of the Most Famous and Infamous Women in History is a humorous how-to that uses the lives of history's greatest Sirens—including Angelina Jolie, Edith Piaf, Eva Peron, Mata Hari, Jacqueline Kennedy Onassis, Susan Sarandon, Nigella Lawson, Catherine the Great, and many others (see the gallery of Sirens)—as case studies to help the modern woman unleash her own inner siren. See Ellen White discuss SImply Irresistible on video.
Amusing and instructive, Simply Irresistible helps women identify the various ways to be their most enticing, with sage, practical, sexy, and sometimes downright outrageous advice on modern seduction. Cheeky histories are paired up with an array of quizzes, quotes, photographs, and personal stories. (download an excerpt)
With this handy how-to, women can answer the age-old question: what sort of siren are you (or do you want to be)? Simply Irresistible outlines the archetypal sirens, including the Companion, the Competitor, the Goddess, the Mother, and the Sex Kitten (find your siren type).
"White's ravishing recap of the world's heartbreakers provides portraits of women who knew how to work it (and a few who are still at it), breaking down their immortal charms into imitable archetypes...dashing, fun and informative, the book is a spirit-lifting tonic for any woman with a case of the gravity blahs."

Liesl Schillinger
The New York Times
Books of Style

"A DASH OF wit and a dollop of innuendo help Simply Irresistible transcend its how-to mission. Who knows whether it will help you to "unleash your inner siren and mesmerize men"—it will at least amuse and possibly instruct."

Adam Begley
The New York Observer

"White's book is an engaging read. She proves that being or becoming a siren is a form of creative self expression."

Annette Tapert, The Power of Style

"Open this book and enter the pantheon of sirens, a crash course in femme fatale-ism. The faculty is handpicked by Ellen White, who sees the divine in all women and not all of them require stilettos to make a deep impression in the wet cement of the male psyche."

Laren Stover
The Bombshell Manual of Style
Order Now